Bicycle Repair Stand: Buying Guide
Bicycle Repair Stand Buying Guide
There Are Several Ways To Acquire A Bike Repair Stand ...
You Can:
Make Do - with bits and bobs from around the garage - a cheap but often frustrating road to travel.
Buy A New Or Secondhand One - this is my personal favourite as I am time-poor and absolutely rubbish at building things that are suppose to ACTUALLY work.
Make Your Own - a fantastic option if you know your way around a tool kit, have time up your sleeve and want to save some dosh. There are plenty of DIY recipes out there in cyberspace for you to follow.
Click here for more DIY Bicycle Repair Stand Info

---
Things To Consider When Buying A Stand For Bike Maintenance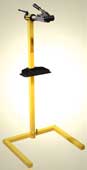 OK so let's assume you are here because you are like me - and are more interested in buying a bicycle repair stand than constructing (or fudging) one of your own.
Well ... what do you need to know before you take the plunge and part with your cash?
Because - believe it or not - not all bike repair stands are created equal.
You need to do your research and consider what you are going to need from this bicycle stand.
I've posed a few question below to help you cover your bases.
My list is by no means complete so please expand it with your own ideas!



Questions To Ask And Answer ...




Cost

How much do you want to spend?

Style

Which type of stand suits you?
Which features are essential? - Desirable?
Which type of bike will you use in it? - Road, MTB, kids, BMX, Comfort, Townies, Electric etc?
Does the workstand you like, adjust to suit a variety of different types of bikes?
Have you tried various models to find which one actually works for you?
Do you prefer a tripod frame or a frame with only two-feet ?

Construction

Does it have a sturdy construction?
How big is it? - Is it heavy?
What is the height adjustment range? Is it variable?
Can angles be adjusted too?
How portable is it? - How portable does it need to be?
Is the model you like - durable and stable?

Clamping Mechanism

What type of clamping mechanism will be suitable for you?
Is there good padding on the places that contact the bicycle frame?
Does the bike need a strong clamp or is it supported by the bottom bracket?
Which type of clamp is suited to your bike?
Does the clamp diameter adjust to fit all frame tube sizes?

Reputation

Have you read REAL people reviews of the different models? What is the workstand's reputation like on the forums?
Is your choice of workstand, renowned for breaking parts? Find out.

Accessories & Storage

What other accessories are included - ie a magnetic tool tray?
Do you have room for a stand? Where will you store it?
Does it need to fold away or be permanently fixed? - And keep in mind that folding does not necessarily mean portable!
How easy is it fold and unfold? Does it need an Allen key to dismantle?
Think about it. Research it. Ask questions.
There is nothing worse than a BIG dose of Buyers Remorse ...
---
Popular Bike Workstands
| Description | Cost |
| --- | --- |
| Ultimate Support Sport-Mechanic Bicycle Repair Stand | Approx US $160- $170 |
| Spin Doctor Pro G3 Work Stand | Approx US $220 |
| Park Tool PCS-10 Home Mechanic Work Stand | Approx US $170 |
| Mighty Rack Mighty Hang-It Bike Rack | Approx US $54 |
| Nashbar Stand By Me | Approx US $13 |
| Topeak TwoUp-TuneUp | Approx US $200 |
| Park Tool USA PRS-15 Pro Race Stand | Approx US $330 |
| Park Tool USA PCS-9 Home Mechanic Work Stand | Approx US $100-$120 |
| Park Tool PCS-4 Deluxe Home Mechanic Work Stand | Approx US $270 |
| Ultimate Feedback Sports Velo Cache Freestanding Rack | Approx US $130 |
---
Other Models: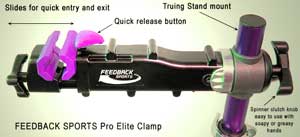 Delta Matisse
Delta Matisse Portable Bicycle Quickstand
Elite
IceToolz
IceToolz Bi-Stand Repair / Display Stand
Inline
Inline Folding Repair Stand
Kettler Profi
Kettler Profi Bicycle Workstand
M-Wave
Marwi
Minoura
Minoura SS-600

Minoura W-3000V

Minoura W-3000B

Minoura RS-5000

Minoura RS-6000

Minoura W-400 Gazzy Stand

Minoura RS-1500

Minoura W-3100
Nashbar
Nashbar Basic Repair Stand

Nashbar Workstand
Pedro
Pedro's Folding Repair Stand With Bag
Park Tool
Park Pcs-9 Home Mechanic - Pcs9

Park Pcs-9 Home Mechanic

PCS-10 Home Mechanic

PCS-4 Deluxe Home Mechanic

PRS-15 Professional Race Stand

PCS-12 Home Mechanic Bench Mount

PRS-20 Team Race Stand

PB-7 Repair Stand and Truing Stand

PRS-4OS Deluxe Oversize Bench Mount

PRS-3 Deluxe Oversize Single Arm

PCS-4 Deluxe Folding Consumer

PRS 21 Lite Team Race Stand (Park)

USA PCS-4 Deluxe Folding Consumer

USA Deluxe Home-Mechanic
RAD Cycle Products
Pro Mechanic Bicycle Repair Stand / Kit

Bicycle Repair Stand
Performance
Spin Doctor Quickstand

Spin Doctor Pro G3

Spin Doctor Essential

Spin Doctor Team

Spin Doctor Race Repair Stand
Sunlite
Folding Bicycle Repair Stand
Tacx
Cyclestand

Cyclespider Professional
Topeak
PrepStand Pro

Two Up Tune Up

Tune-Up Stand

PrepStand Max

PrepStand Elite

PrepStand Sport

FlashStand Portable Tune-Up Stand

FlashStand Work Stand
Ultimate
Support Systems Pro

Support Sport-Mechanic

Consumer Repair Stand

Feedback Sports Sport-Mechanic

Feedback Sports Pro-Ultralight

Feedback Sports Recreational

Feedback Sports Pro-Classic Bicycle

Feedback Sports Pro-Elite

Support BRS-80 Professional

Support Systems RAKK Integrated Bicycle Display System
Bicycle Repair Stand: Buying Guide
______________________
Back From Bicycle Repair Stand Buying Guide to Bicycle Repair Stand
Back to Bicycle and Bikes Homepage
Love to hear your comments in the box below ...