Bicycle Tours: Packing Guide
Your Bicycle Tours Packing Guide To Clothes & Accessories ...
The best materials to cycle in are fast drying synthetics or synthetic blends.
Avoid cotton clothing. It retains any dampness - either from sweat or rain - and will be very uncomfortable on long rides.
Keep in mind you will be on the road everyday and won't have a great deal of time to wait for washing to dry.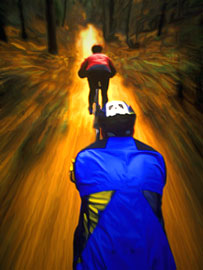 You will need clothing that can washed at the end of a days riding and that will dry quickly overnight. You don't want to pack away damp, smelly clothes in your panniers.
This guide generally assumes you will be bicycle touring in the warmer months with finer weather, however we have included extra gear options for journeys that will be undertaken in the cooler / wetter months.
---
Cycling Tour Packing List
2-3 Pairs Of Padded Cycling Shorts:
Either tight nylon/ lycra, or polycotton/spandex blended 'bike shorts' or ...
The looser fitting style 'mountain bike shorts' which are breathable, have adjustable waists, handy pockets and rear stretch yoke for pedaling mobility.
2-3 Cycling Jerseys - Short or Long Sleeved:
Cycling jerseys are great because they are breathable and manage moisture, have roomy pockets which allow you to carry all of your accessories ie. pocket camera, lip balm, water bottles and energy bars.
Best of of all good cycling jerseys will have a sun protection factor of UPF 50+ which is very important if you are outside all day.
1 Set Of 'Dress' Clothes
There is a very good chance that whilst on your bicycle tour you go out to dinner, visit museums or art galleries etc. Take 'dress' clothes that are make from material that won't crush - because chances are you won't have access to an iron.
Also, once again make sure you take clothes made of synthetic or woollen material so it will wash and dry quickly. You don't want to be putting damp clothes back in your saddle bag.
Resist packing jeans which are heavy, cotton and dry slowly.
If you are planning going to places with a higher dress code then you will probably need to bring a more 'dressy' pair of shoes.
1 Rain Jacket, Poncho or Gortex Cycling Jacket
Made of a lightweight material - if you are doing bicycle tours in summer.
It should also be completely wind and waterproof with elasticised cuffs and waistbands and ideally have a breathable mesh panel under the arms keeps you from getting overheated.
Make sure it can fold up to be very small, so that it doesn't use up all your pannier space.
Another desirable feature is to have reflective strips on it so that you become more visible in inclement weather.
It is a good idea to invest in a rain jacket and pants if the region you are touring is known for its wet weather and downpours.
In winter you are obviously going to need some specialist cycling Gore-tex cold weather / wet weather clothing.
Bike Touring Shoes Or Sandals
Bike Shoes or Sandals are the perfect solution for bike touring because they are designed to meet both your cycling requirements and off-bike needs like walking, hiking etc. This means you don't need to take several different types of shoes.
A good quality pair of touring shoes will be comfortable, durable and made of high quality, breathable materials and will feature a resin reinforced toe.
Depending on the style of shoe you choose, they may feature a recessed cleat design, with an easy removable sole plate for simple cleat installation.
Other features may be a 'shoe lace keeper-loop' to keep your shoe laces neatly tucked away.
The Touring Cycling Sandal is great for cycling in hot and humid climates. It is also a great shoe for off-bicycle activities.
Bicycle Longs, Capris Or Tights
Provide warmth and comfort during rides. They are specially designed for cycling and made to be tough and durable, yet light and comfortable.
There are lots of different choices of fabrics - just make sure yours are breathable, warm and reduce the wind chill factor.
Options include: fabrics that are infused with antistatic agents and long life antibacterial agents, reducing bacteria and odour, moisture wicking which transfers moisture away from your skin to maximise comfort, flatlock seams, leg cuffs with zip openings and higher cut backs for extra protection against the elements.
Depending on your sensibilities and the weather you may wish to also take along a pair of over-pants, to put on top your cycling longs.
Cycling Socks
On a bicycle tour it is really important to buy yourself some good quality socks to cycle in. They should be made of a multi fabric blend, be soft and comfortable, have moisture wicking properties and most importantly have reinforced heels and toes.
It's also a good idea to take along a few extra pairs of woollen socks for the cold weather.
6-7 Pairs Of Underwear
You will want to take six or seven pairs of underwear depending upon how often you think you may do washing.
1 Fleece Jacket
These jackets are warm and fairly lightweight. Great to slip on in those cooler evenings or overcast days.
1 Bicycle Helmet & Helmet Cover
Your helmet should be professionally fitted by a bike specialist, especially if you haven't purchased a decent one before.
Make sure it has airflow vents, an adjustable chin strap and internal foam padding.
A waterproof, breathable helmet cover is a great idea for wet and cooler weather. It protects your head from the rain or cool breezes.
The helmet cover is like an elasticised shower cap that simply slips over your helmet. Some have the added bonus of a highly reflective strip on the front and back to make you more visible in bad weather.
Eyewear
Invest in a really good pair of comfortable Sungalsses or Cycling Googles for your bicycling tour. You won't regret it!
The will protect, you not just against the glare, but also high winds, dust and insects.
Don't buy eyewear unless they give 100% UVA and UVB protection.
Some eyewear will come with different colored lenses so you can change them to suit the conditions. Others will automatically tint darker, in brighter light.
Make sure they fit comfortably - not too tight or loose and that they have soft nose pads and temple tips for optimal comfort and support.
It is an added bonus if you can get eyewear that has had a special anti-fog and anti-scratch treatment.
A Day Pack
Carrying a daypack is a great idea. It means you can carry all your valuables in the one bag so you can remove it easily if you decide to park the bicycle to go exploring.
The Day Pack is also a good spot for other things that you may wish to access readily, during your bicycle tour ie. maps, snacks, drinks, camera, sunscreen etc.
---
Optional Extras For High Rainfall Areas
Cycling Booties
In wet weather the cycling bootie can be a blessing.
Good quality 'booties' are designed to be breathable, completely wind and waterproof, and their stretchable outer layer keeps you dry, but still allows you an unlimited range of motion.
A Wool Undershirt
A 100% wool undershirt not only feels soft, it keeps you warm when out riding in cold and/or wet conditions and better still they are easy to care for.
---
Additional Essentials
The style of bicycle tour that you are planning to undertake, will determine which of these 'Additional Essentials and Extras' will be provided for you and those which you will need to provide yourself.
NB: Store EVERYTHING in its own labelled 'zip lock' or 'slide-lock' plastic bag. This will keep everything dry, easily identifiable and prevent leakages spreading throughout your whole luggage.
Documents & Important Stuff

Passports & Visas

Money, Credit cards & Travellers Cheques

Maps & Local Guide Books - or photocopies of the relevant pages.

A Pen & Pad

Digital Camera & Battery Charger - Make sure your charger has the right type of electrical adapters and/or converters.

Tools & Repairs

Small torch

Tools & Bike Maintenence Kit

Heavy Duty Bike Lock

Swiss Army Knife - or an equivalent Multi-Tool - make sure it has scissors attached.

Sewing Kit

First Aid Kit

Health & Hygiene

Miniature Clothes Line and Pegs - for drying out clothes at night.

Soap

Personal Toiletries - Preferably in 'mini' versions.

Washing Powder

Medications & / Or Vitamins

Toilet Paper

Hand Steriliser

Baby Wipes

Skin Protection

Sunscreen

Lip Balm

Mosquito Repellent

Sun Hat, Cap or Bandana

Moisturiser

Food & Drinks

3 Water bottles

High Energy Snacks

Bits & Bops

Safety Pins

Rubber Bands

Extra plastic 'zip lock' or 'slide-lock' bags

Extra normal plastic bags - for dirty clothes or shoes
Optional Extras To Take On Your Bicycle Tour
Electronics

Phone & Charger - Make sure your charger has the right type of electrical adapters and/or converters.

Travel Hairdryer - that has a switch for 110 and 220 voltage.

Spare Batteries - for any electronic gear, including bike lights.

Personal

Reflective Wear ie. anklets, vests.

Microfibre Towel

Sleeping Bag - Lightweight

Books

Reading Glasses

Eye Glasses Repair Kit

Fanny Pack / Bum Bag or Money-Belt

Miscellaneous

Duct Tape

Map Holder
Bicycle Tours: Packing Guide
______________________
Back from Bicycle Tours Clothes & Accessories to the Bicycle Tours Packing Guide
Back to Bicycle and Bikes Homepage
Love to hear your comments in the box below ...