Bicycle Tours: Packing Guide
Bicycle Tours Security Guide ...
When you are undertaking a cycling tour, there are a number of common sense steps you can take to give yourself the best shot at ensuring that your gear isn't stolen.
Chances are that you will never have any problems, but as the old adage goes - "Better to be safe than sorry ..."
Top Security Tips For Bicycle Touring
Remove Valuables
Keep all your valuables in a removable daypack and take that with you WHENEVER you leave your bicycle.
Before leaving on your bicycle tour make photocopies of all your important documents ie. passport, airline tickets, itinerary, travellers cheques, credit cards and keep them securely on your person.
Top Quality Locks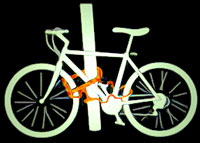 Buy three good quality locks for your touring bicycle:
A heavy-duty lock for the bike frame.
A different type of lock for your front tire
A cable lock for running through the rails of your bike seat.
Always buy different styles of locks, which have their own built-in locking devices.
A 'U-lock' and a 'cable-lock' used in combination is a great choice.
Smaller U-locks are preferable than larger ones because, for a crowbar wielding thief, the smaller U- lock is a lot more difficult to pry open.
Avoid using either padlocks or a cable that's secured by a U-lock. Choose a 'combination' or 'key' locks instead.
Remove anything attached to your bike that can be easily detached ie. GPS, water bottle, pump, lights etc
Location, Location, Location !!
On a bicycle tour make sure you always lock your bike up to a permanently fixed object, which has a closed top ie. a lampost, tree or public bike rack.
Avoid locking your touring bike to objects that are 'open topped' - like a fire-hydrant - these fixtures allow thieves to simply lift your bike up and off .
In the cities try to leave your bike a highly visible spot, rather than in a secluded alley. If an area doesn't feel safe then don't stay. Listen to your gut.
Never take your eyes of your bicycle in a train station or other type of transport hub .... EVER!!
Remember the poorer, the country or area that you are cycling through - the more likely your gear will be taken - so be more vigilant than normal.
If you are going to leave your bicycle for a chunk of time ie. during the night, a sightseeing tour, dinner out, concert etc - then either:
Lock it up carefully in a highly visible spot.
Arrange to store it inside, at your accomodations.
Hire a locker to store your bike and/or gear.
Leave it where someone reliable can watch it - you may need to pay them.
It seems counter-intuitive, but your actual bicycle is less likely to be stolen, (during the day), if it is loaded up with gear.
It is easier - and less conspicuous - for a thief to take an unencumbered bike ... so don't feel you always have to unload your gear.
However if you are nervous store it somewhere safe.


---
Phone Options On A Cycling Tour
In this modern 'Day and Age' we are constantly connected to friends and family by telecommunications - so the chances are that while you are on a cycling tour you will want to have some way of being contactable or able to contact others.
Even if - just for the duration of your bike tour- the idea of being cut off from the constant ringing of the phone appeals to you ... keep in mind there could be some emergency or breakdown situations where you may be grateful to have access to a phone.
By the same measure it could be just as important for people at home to be able to contact you with news or in the case of an emergency.
Your Phone Options Include: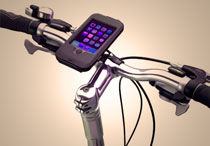 Taking your own cell phone and arranging for your phone company to provide access to international calling.
Buying a local SIM card, for your own phone - in the country you are touring through.
Renting a travel phone from one of the many phone provider companies - just Google 'rent a phone'.
Purchasing a pre-paid phone card.
Buying a pre-paid cell phone from your host country.
Bicycle Tours: Packing Guide
______________________
Back from Bicycle Tours: Security to the Bicycle Tours Packing Guide
Back to Bicycle and Bikes Homepage
Love to hear your comments in the box below ...