Different Styles Of Car Bike Rack:
Hitch Bike Racks
The Features Of The Trailer Hitch Bicycle Rack
Hitch bike racks function by suspending your bicycles in a parallel position to your vehicle.
There are two different designs available, either the - tray rack or the tube-top.
A tray-rack stands your bicycles upright by securing the bike tire in a specially designed tray.
A tube-top rack clamps onto your bicycle frame.
Hitch bike racks are affixed to your to car using a receiver. You will need to have one installed if your vehicle doesn't already have a pre-installed receiver.
You will probably need to purchase a hitch extender if you intend to buy a hitch bike rack - but your vehicle already has a rear-mounted spare tire . This hitch extender will thrust the hitch bike rack out away from the vehicle, far enough so that there is still room for the spare tire.
Another great accessory that can be joined onto the hitch bike racks - is an extra hitch cradle. An aditional hitch cradle will increase your carrying capacity by another two bicycles.
If your trailer hitch bicycle rack is driving you nuts with its constant rattling and clattering then you may want to invest in a hitch stabilizer. The hitch stabilizer is designed to fit over both the car bike rack and the hitch receiver - and should help to stop that infernal racket!!.
Hitch
A hitch ball is that ball-shaped contraption, onto which the trailer coupler is fastened - enabling your vehicle and trailer to be joined together.
Hitch Clearance
Hitch clearance is a measurement.
It is used when you have a vehicle - which has its spare tire mounted at the back - and you want to attach a bike rack which is hitch mounted.
---
Pros For The Hitch Bike Racks Are...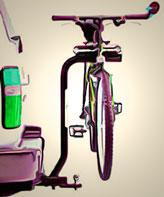 They can carry up to six bicycles at a time and can adapt to fit a wide selection of bike frames ... although not all.
Your bikes are easy to load and unload ... and their parallel positioning reduces the likelihood of scratching your car's paintwork.
Bicycles are securely clamped while you are driving to prevent rocking, and tend to be quite sturdy in construction.
The trailer hitch bicycle rack is more secure than other forms of racks because a locking hitch pin can be used to secure the racks.
The arms of most hitch bike racks can be folded down when you aren't using the rack.
Generally there is no need for you to remove the front wheels when you mount your bikes into your hitch bike racks.
The racks tend to be simple to install - achieved by just slipping the rack into the hitch.
Quality hitch bike racks will have carefully spaced cradles. These cradles will be made with soft, padded materials and have cable grooves ... this means your bike's finish won't be scraped and they will be held firmly in place.
---
Cons For The Hitch Bike Racks Are That ...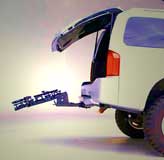 There is the added expense of - if your vehicle doesn't already have a pre-installed trailer hitch - one will need to be installed.

Cheaper car bicycle rack models will probably skimp on the padding ... so you may need to buy additional padding and possibly extra straps.
Being attached to the back of your car - your bikes can be damaged in a rear bumper accident.
Depending on the position of your bikes - the vehicle license plate and/ or taillights can become obscured..
With some higher placed hitch bike racks your vision to the rear can be obscured.
Hitch bike racks may not cater some specialty bike frames or non-standard shaped bicycles.
Potentially the trailer hitch bike rack prevents you from being able to open the trunk when your bicycles are in place.
The length of your vehicle will be increased substantially ... which may impact parking opportunities.
---
Preventing The Theft Of Your Bicycle Car Racks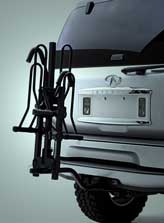 It is a really good idea - with hitch-mounted racks - to invest in a locking hitch pin. However be aware that ... no car bicycle rack is totally protected by a locking mechanism.
A locking cable is another means of securing your bikes to the your car-rack - and is probably advisable if you plan to park somewhere and leave your vehicle unattended.
Always aim to park in a well-lit and highly visible spot so that it is less attractive to thieves.
Different Styles Of Car Bike Rack:
______________________
Back From Hitch Bike Racks to Car Bike Rack
Back to Bicycle and Bikes Homepage
Love to hear your comments in the box below ...