Different Types Of RV Bike Racks:
Hitch Mounted Bike Racks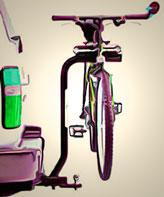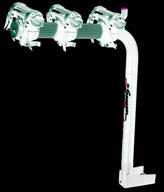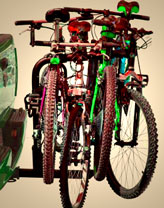 Hitch
A hitch ball is that ball-shaped contraption, onto which the trailer coupler is fastened - enabling your RV and trailer can be joined together.
Hitch Clearance
Hitch clearance is a measurement. (see our Hitch Bike Rack Clearance Guide for Spare Tires section below)
It is used when you have a vehicle - which has its spare tire mounted at the back - and you want to attach a bike rack which is Hitch Mount.
---
Features Of The ... Hitch Mounted Bike Rack
The Hitch Mounted bike rack holds your bicycles parallel to your RV and comes in two styles, either - tube-top or tray rack.
A tray-rack stands the bicycles upright by resting the bike tire in a tray.
A tube-top rack holds the bicycle by its frame.
Hitch-Mount bike carriers are mounted to your to RV using a receiver. You will need to have one installed if your RV doesn't already have a pre-installed receiver.
You may also need an RV bumper adapter which will facilitate the fitting of a hitch mount with a two-inch-wide receiver.
---
The Hitch Mounted Bike Rack Is Pretty Popular For Several Reasons ...
It can carry up to five bicycles at a time and can adapt to fit a wide selection of bike frames.
Your bikes are easy to load and unload ... and their parallel positioning reduces the likelihood of scratching your RV's paintwork. Always a bonus!
Bicycles are securely clamped while you are driving to resist rocking.
A locking hitch pin can be used to secure your racks.
The arms of the bike rack can be folded down when you aren't using it.
Generally there is no need for you to remove the front wheels when you mount your bikes into the rack.
The racks tend to be simple to install - achieved by just slipping the rack into the hitch.
Quality hitch-mount racks will have well-spaced cradles which are made of a soft, padded materials and have cable grooves. This means your bikes can be held firmly and not get all scratched up.
The Downside Of The Hitch-Mounted RV Bike Rack, Is That ...
There is the added expense of - if your RV doesn't already have a pre-installed receiver (or hitch) - one will need to be installed.

Cheaper models will require the additional purchase of extra padding and straps.

Being attached to the back of your RV - your bikes can be damaged in a rear bumper accident.
Depending on the positioning your license plate and/ or taillights can become concealed.

The hitch bike racks aren't tandem-friendly and may not accomodate some specialty frames either.
---
Hitch Bike Rack Clearance Guide ...
For A Vehicle With A Rear Mounted Spare Tire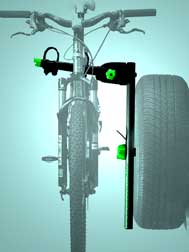 IMPORTANT INFO
If You Own A Vehicle With A Rear Mounted Spare Tire!!
Before buying a Hitch Mount bike rack you need to measure your vehicle first.
Why?
Because ... there are too many variables which can effect how your bike racks are going to fit - like the height of your tires and the position of the hitch.
Don't be lazy and just go by the general suggestion guides or you may live to regret it.
Here is a formula to help you determine your - Hitch Bike Rack Clearance.
Tie a weight onto a piece of string.
Attach the string onto the back of the spare tire with some tape.
Ensure you have the string hanging down below the hitch.
Measure the distance from the center of the hitch pin to the string. Measure horizontally.
Make a note of this measurement and then ... when selecting your bike rack add on an extra inch to the measurement to ensure you have good clearance.
Last but not least - don't forget to add some padding to your hitch or spare tire to stop your bikes getting scratched.
Different Types Of RV Bike Racks:
______________________
Back From Hitch Mount RV Bike Racks to RV Bike Racks
Back to Bicycle and Bikes Homepage
Love to hear your comments in the box below ...