Kona Bicycles
From Philanthropy to Elite MTBs
In 1988 The Kona Bicycle Company was founded by former MTB champion Joe Murray, Dan Gerhard and Jacob Heilbron.
Dan Gerhard and Jacob Heilbron are still owner-managers, however, their partner Joe Murray has now left to be a part of Voodoo Bikes team.
The Kona Bicycle Company was named after the major island of Kailua-Kona in Hawaii, which held a special place in the hearts of the owners.
Once established they began producing a range of elite MTBs, touring and racing bicycles ... with fantastic and creative names.
---
The first Kona bikes off the assembly line were given names in keeping with the whole Hawaiian theme ... this included its renowned volcanic landscape.
They included:
Hahannah - (meaning 'hot' in the Hawaiian language)

The Cinder Cone

Hei Hei - (translates as 'race' in the Hawaiian language)

Explosif

Hot

Lava Dome

Fire Mountain

Kilauea - (Named after the Hawaiian volcano)
---
When the Kona Bicycle Company developed its new range of bikes they were given cheeky and fresh names like Jake the Snake, the Coiler and the Stinky.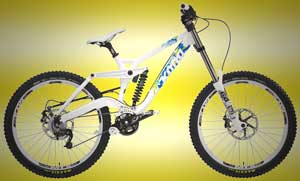 Not content to stop there, the team began to push the boundaries of public opinion even further when they named their full suspension bicycles Sex One and Sex Two.
Unfortunately for Kona, the complaints poured in and they were forced to tame-down the names.
When the new range of Kona bikes were rolled out, there was once again a controversial theme.
This time it was violence ie. Shred and Stab.
Funnily enough ... no complaints - which prompted Kona executives to sardonically observe that:
violence is obviously more acceptable than sex.
---
The Kona Bicycle Company is deeply involved in cycling projects, races, sponsorship, advocacy and racing events.
In co-operation with several designated Kona Bike Parks in Canada, Italy and Austria, they have set about creating a bicycle rental system using versions of the Stinky.
The Kona Bicycle Company, in conjunction with Bicycling Magazine and Bristol-Myers Squibb, has developed the Kona Africabike.

The project they have established is called - BikeTown Africa.

This video was produced by Daryn Kagan in 2009
Under the scheme, African healthcare workers who are caring for HIV AIDS patients, are given use of an Africabike to enable them to more easily visit and treat their patients. In a philanthropic gesture The Kona Bicycle Company has pledged to manufacture one thousand Kona Africabikes to contribute to the project.
______________________
Back From Kona Bikes to Bicycle Brands
Back to Bicycle and Bikes Homepage
Love to hear your comments in the box below ...