Different Types Of RV Bike Racks:
Ladder Mount RV Bike Racks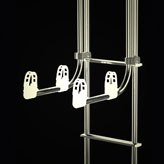 Features Of The ... Ladder Mount Bike Carrier
The average RV ladder can handle - 250 pounds or 113kg - of weight so mounting a bike rack and a couple of bicycles to your roof ladder should be fine ... just make sure you check your ladder's weight rating first.
However ensure you fasten the bikes securely - use extra straps if you need to - so they aren't jiggling around while you are driving ... and damaging your roof -ladder.
Ladder Mount bike racks are a great, easy-to-use option, especially if they feature a pivoting arm which allows you unfettered access to the ladder ... AND ease of attachment and detachment of your bikes.
The other good thing about the ladder mount is that they tend to be pretty lightweight.
Different Types Of RV Bike Racks:
______________________
Back From Ladder Mount RV Bike Racks to RV Bike Racks
Back to Bicycle and Bikes Homepage
Love to hear your comments in the box below ...