Different Types Of RV Bike Racks:
Roof-Mounted Bike Racks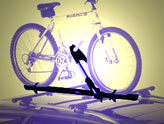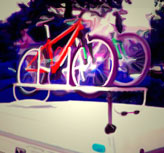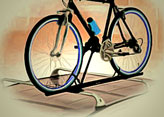 Features Of ... Roof-Mounted Bicycle Carriers
Roof-Mounted bike racks are another option in bike-rack transportation.
Generally they have up to a four bicycle capacity ... depending on the your RV manufacturer's limits on roof-weight.
These racks are often made from lightweight aluminum and feature soft foam bumpers on the rack legs to protect your RV's rooftop.
The beauty of the roof-mounted bicycle racks is that - they keep your bikes out of your hair when you aren't using them - and the rack is easy to remove if you need to. Make sure you use a ladder though ... and don't stand on your roof!
For tent-trailer RVs a roof-mounted bike carrier can be a good choice because ... the same racks which are designed for regular cars can also be bolted to the roof of some tent trailers - check if your brand fits into this category first!.
Depending on your model - some roof-mounted bike racks can offer the option of securing a roof-box onto your RV's roof. The benefit of the roof-box is - that they can house and protect your bicycles from inclement weather - AND any avoid any damage that may have occured if your bike had been tightly fastened in a vertical position on the RV roof.
The other pros of the roof-mounted bike racks are that: They are great for more unusual shaped bikes ... and have a reputation for being kinder to the paintwork on your bike frame.
The cons of a roof-mounted bicycle rack are that: They aren't very aerodynamic and can be hazardous under low-clearance bridges and tunnels - so take care!
And last but not least, (again - depending on the make and model you want), you may need to have a crossbar system fitted to your roof. Installation methods will vary with the different models.
---
Different Types Of RV Bike Racks:
______________________
Back From Roof Mounted RV Bike Rack to RV Bike Rack
Back to Bicycle and Bikes Homepage
Love to hear your comments in the box below ...