Latest Schwinn Electric Bicycle Exposed!
In Breaking News ...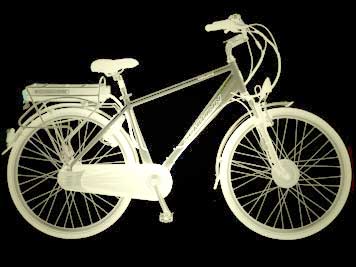 The latest in the Schwinn Electric Bicycle range is the Tailwind and it is set to replace those old gas-gussling dinosaurs we call cars ...
OK, OK - so maybe that is a SLIGHT exaggeration but not completely out of the realms of possibility if the current gas supply / price rises / global warming, situation escalates.
I don't know about you ... but I ADORE the idea of the pedal-assist electric bicycle!
It offers the best of both worlds - the opportunity to improve your health and fitness through cycling but when the tough gets going - the motor gets going. BRILLIANT!!
If you are considering taking one of these babies for a spin and you are curious about how they handle then here is the lowdown on the latest Schwinn electric bicycle called the TAILWIND ... aptl named because of the tangible help it gives to your cycling when the pedal-assist motor kicks in.
We have taken a closer look at the Pros and Con's of The Tailwind on our Schwinn Electric Bicycle Review page. So if you want to know more - check it out!
---
Tech Specs For The Tailwind Electric Bicycle
The Body Components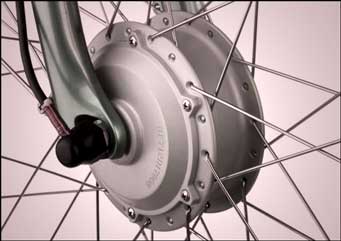 The Schwinn Tailwind is essentially a commuter bike that has been built for urban and suburban cycling.
Although this Schwinn electric bicycle may look cute, quaint and old fashioned, believe me, there is nothing old or dated about the physical components of the Tailwind.
They are SLICK.
The body of this electric bike is built with a Schwinn City-Tuned 6000 series aluminum alloy frame.

It features quality components such as a Shimano Nexus 8-speed internal geared hub and rear roller brake and a Shimano Revo shift lever for gear control.

Located on the handlebars there is PowerDial, which allows you to choose the type of pedal-assistance you need (downhill, flat or uphill) or you can just switch back to riding in regular bike mode.

And in true Schwinn style the Tailwind has all those thoughtful features that make for a truly BEAUTIFUL electric bike like ...
alloy rims - full fenders - a chain cover - wheel lock - B+M dynamo powered light set - integrated rear caliper wheel lock - a bell - rear luggage rack - kickstand - Nexus twist shifter
---
The Battery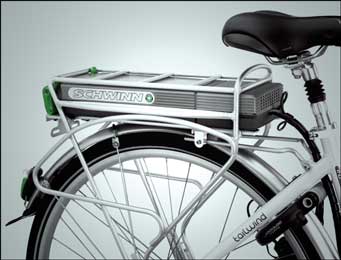 The Tailwind comes with a Plug N' Drive battery system which locks into the rear bicycle rack and doesn't require the use of any plugs or wires.
Produced by Toshiba, the battery is made with their SCiB technology ... A.K.A Super Charge ion Battery technology.

The motor is mounted in the front wheel hub. It is 180 watts continuous or 250 watts peak-power, motor that draws its electricity from the 24-volt battery pack.

This Schwinn electric bike also includes a 8.4 amp standard residential charger which you plug into the bicycle battery and a normal wall outlet.

The battery will recharge in a mere 30 minutes; as opposed to the normal 4 hour recharge time.

There is also rumoured to be a 40 amp commercial charger available that will recharge your electric bicycle in approximately 8-10 minutes.

The Plug N' Drive battery system weighs approx 12 pounds or 5.4kg

The battery has a 2 year or 20,000 mile (32,000km) warranty and can be recharged a massive 3000 times and STILL have the capacity to hold a full charge.

On the left handlebar there is a battery-life indicator which lets you know what your battery status is.
---
Taking The Plunge and Buying A Schwinn Electric Bicycle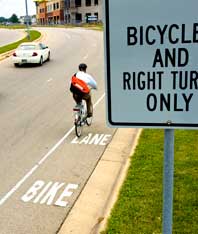 If you are considering switching to an electric bicycle then the best idea is probably to do your research first and then take one out for a test ride to see how it suits you. You may love it or then again you may hate it ... courses for horses and all that.
It is a big investment (the Tailwind is US $3200), so if you aren't flush with ready cash, it might be an idea to sit down and do a budget.
Work out what you will have to spend versus what you can save long term ie petrol, oil, car repair, insurance, licences, parking tickets, carpark fees, tolls, public transport costs, gym membership, traffic headaches etc, etc, etc!!
You may also want to consider REALISTICALLY how often you will ACTUALLY use an electric bicycle. Think about whether or not it is a practical mode of transport for you and can meet your needs.
---
Other Things To Think About Are: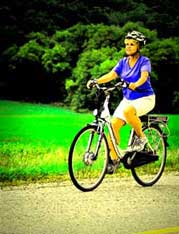 The size of your luggage requirements - can you transport what you need?

Is your city or town is bicycle friendly - with cycling lanes, bike tracks, bike racks and stands?

What will you do in inclement weather?

Is your area too steep for ANY type of bicycle?
Of course if the Tailwind doesn't tickle your fancy then maybe have a look around and research some of the other great electric bicycles that are out in the marketplace ...
Goodluck with it all and keep on cycling!
---
Schwinn's Tailwind Electric Bike
Here's the lowdown from Tom Mount, who is the Director of Product at Schwinn Bicycles
______________________
Back from Schwinn Electric Bicycle to Bicycle Buying Guide
Back to Bicycle and Bikes Homepage
Love to hear your comments in the box below ...