Different Styles Of Car Bike Rack:
Spare Tire Rack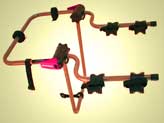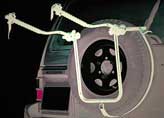 The Features Of ... The Spare Tire Rack
The Spare Tire Rack is a great option if you own a vehicle on which an extra tire is mounted onto the rear trunk.
Spare Tire Carriers work by either - having the rack frame fitted around the spare wheel ... or alternatively the racks can be bolted into the hub where the spare tire is affixed.
Depending on the model there may be a - centering mechanism - incorporated which will counterbalance the weight of the spare tire
With a Spare Tire Rack that bolts into the hub - just be aware that you may need to source a model specific rack. This is because the different car manufacturers will install non-standard sized tire and irregular bolt patterns on their vehicles.
The bike carrier which wraps around your extra wheel is a great rack design because means you can transport bikes without having to remove your spare tire ... and you never know when you might need that wheel!
Having said that ... if you do get a flat, there are certain models of Spare Tire Racks that will necessitate unbolting and removing the bike rack before you can access the spare tire.
The mounting is on this style of carrier is pretty secure and harder to steal than other form of racks.
By using the spare wheel as a rack mount you also free up your trailer hitch for other things - like towing stuff.
This type of bike carrier does have its limitations though ... because the number of bikes you can tote is restricted to merely two.
On a precautionary note ... just make sure before you mount the racks, that your brake lights aren't going to be obstructed by the bikes.
---
Different Styles Of Car Bike Rack:
______________________
Back From Spare Tire Rack to Car Bike Rack
Back to Bicycle and Bikes Homepage
Love to hear your comments in the box below ...