Different Types Of RV Bike Racks:
Spare Tire RV Bike Racks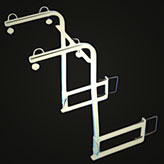 Features Of The ... Spare-Tire RV Bike Rack
The Spare-Tire bike rack is a bicycle carrier which is affixed to the (suprise, suprise!) - spare tire mount on the back of your RV.
These bike racks are restricted to a two-bicycle capacity due to strength limitations. Like the bumper-mount bike racks - they have weak-welding issues and aren't designed to bear extra weight ... so will probably need to sure them up with extra supports.
Another thing to consider is the impact your Spare-Tire bike racks are having on your brake lights. Don't let them be obscured.
A positive feature of some models of this type of RV bike rack - is the carrying arm which is collapsable or foldable when you aren't using your bike rack.
Different Types Of RV Bike Racks:
______________________
Back From Spare Tire RV Bike Racks to RV Bike Racks
Back to Bicycle and Bikes Homepage
Love to hear your comments in the box below ...