Confessions of a Vintage Bicycle Poster Junkie ...
OK now it is confession time ...
I have a serious weakness (some less charitable might even suggest an obsession), with vintage bicycle posters. I mean, have you seen these things!
To me, these posters are amazing works of art!
They say that beauty is in the eye of the beholder but I challenge any of you to look through this gallery of bicycle prints and not fall in love with at least ONE of these beauties.
There is something for everyone. I've noticed the styles of the different bicycle prints really seem to reflect the 'cultural personality' of the different nations in which they were printed:
The French ...

Whimsical and romantic..

The English ...

Sensible, aristocratic and proper.

The American ...

Wholesome and fresh.

The Italian ...

Stylish and stylized.

And the Dutch ...

Clean and uncluttered.
---
A Little Bit Of Vintage Bicycle Poster Trivia
Vintage bicycle posters were first drawn, painted and distributed in the 1800 - 1900's by bicycle manufacturers, tire companies and to promote forthcoming bicycle expositions or bicycle races.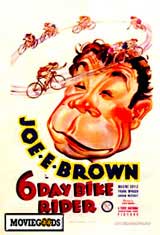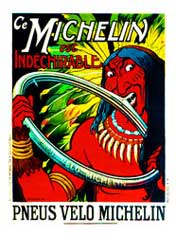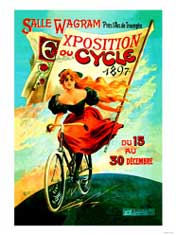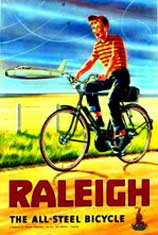 They were originally printed on a fine, thin poster paper and ranged in size from:
Height: 20-102 inches or 51-260 centimeters
Width: 24-40 inches or 61-101 centimeters.
---
Starting Your Own Vintage Bicycle Poster Collection
Depending on the size, your budget, appetite for originals and level of fanaticism, there is a smogasboard of options if you want to start your very own vintage bicycle poster collection.
Collections Are Often Based On A Theme ... For Example
From a particular nation ...
ie Italian posters
From a specific era ...
ie Bicycle prints from the 1950's
Specific bicycle manufacturer posters ...
ie Schwinn advertisements
Race publicity for cycling ...
ie Tour de France
Promotional Events ...
ie Expositions or fairs
Advertisements for associated bicycle products ...
ie Michelin bicycle tires
Stylized prints ...
ie French romantic
Individual poster artists ...
ie Jules Cheret
Cartoon or humour based posters
---
Where to Buy Vintage Bicycle Posters?
Then there are loads of places where you can source great bicycle prints to hang on your wall ... and the best news is that they aren't too expensive.
Retail shops sell them but perhaps the easiest and quickest option is to go online, make a selection of vintage bicycle posters and have them posted out to you ... guess what my family are getting for Christmas this year?
---
What Type Of Collector Are You?
The -
'Just Because I Love It'

- Collector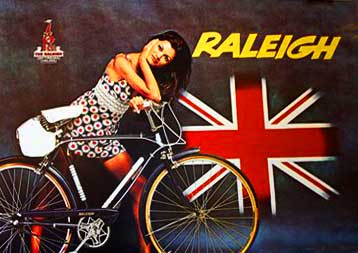 OK ... so if you are like me and just LOVE a particular vintage bicycle poster but you:
Don't have a huge amount of cash

Really want the poster for arts-sake not for an investment

Actually want to buy LOTS of different cycling prints
Then buying some of the readily available online is the best way to go. The range is huge enough to satisfy most tastes.
---
The -
'Discerning Quality Reproductions'

- Collector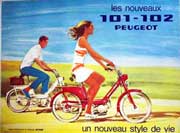 If you are looking for a beautiful reproduction of an original vintage bicycle poster then there are some really good quality options available.
There are companies that carefully reproduce posters using traditional printing processes.
This is a great alternative to shelling out for an original.
It IS more expensive than a mass produced print but then again you are paying for the QUALITY.
---
The -
'Serious, First Class, Big Bucks Original Vintage Bicycle Poster'

- Collector

If you want to take the plunge and splurge on an original then be prepared to pay some serious money ... and I mean SERIOUS.

If you do choose to go down this road make sure you do your homework.
Research the artwork and artist
Verify that the vintage bicycle poster is actually IS an original
Deal only with reputable and honest brokers or auction houses
Insure it
Get advice from the International Vintage Poster Dealer Association
---
Disclaimer
WARNING: Vintage Bicycle Poster Collecting is highly ADDICTIVE and EXTREMELY damaging to your wallet.
If symptoms persist, see your accountant.
______________________
Back to the Bicycle Gift Page
Back to Bicycle and Bikes Homepage
Love to hear your comments in the box below ...