Do The Brands Of Bicycles Really Matter?
Any bike shop that stocks only certain bicycle brands will often swear the one they carry in-store is the best.
As a general rule, bicycles of a certain style within a similar price range, are quite comparable wth each other.
There's not a great difference between a Roadmaster, Mongoose, Pacific, Schwinn,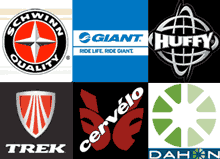 British Eagle, Magna or Huffy Bicycle that can be purchased at a department store.
By the same token, an entry level Giant road bike is similar to an entry level Trek, and mid level Specialized Bikes are similar to those from Cannondale.
NOTE: Department store brands of bike are generally not comparable to any reputable bicycle brands that are sold in bike shops.
(Although you probably won't be making a purchase decision between Huffy Bicycles and Pinarello Bicycles.)
Some bicycle manufacturers only make high-end bikes, others only low-end cheap bikes, while some bigger companies sell a whole range of bicycle types in various price ranges.
When trying to calculate the best bike to buy, it is more important to compare bikes of a similar type, using similar frames and groupsets.
These will also generally fall within a similar price bracket.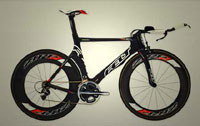 The best brand of bike for you, can be different to the best brand for someone else.
It depends on your body shape, level of fitness and personal preferences.
Research online and at your local bike shop before buying a bicycle.
---
About the Bicycle Manufacturers
Broad Spectrum Bicycle Brands
Name
About
Bicycle Styles

Apollo Bikes

Apollo is a well known bicycle brand in Australia, which retails through bike shops.

Road

Mountain

City / Hybrid

Tandem Bicycles

Kids Bicycles

Avanti Bikes

Avanti was launched in New Zealand in 1985 and has since become one of the more popular bicycle brands in both Australia and New Zealand.

Road

Mountain

City / Hybrid

Kids Bicycles

Bianchi

Bianchi markets itself on the long association with past and present cycling champions to position itself as a leader in innovation.

The Bianchi brand, like Schwinn, has a long and prestigious history. It now sits in the stable of bicycle brands owned by CycleEurope. (CycleEurope is in turn owned by Grimaldi Industri.

Other CycleEurope brands include Crescent, DBS, Everton, Gitane, Kildemoes, Legnano, Micmo, Monark, Puch and Spectra.

Road

Mountain

City / Hybrid

Kids Bicycles

Cannondale

Joe Montgomery founded Cannondale Bicycles in a little shop above a pickle factory. After some tough years, the Cannondale company is now producing high quality bicycles and cycling gear.

More about Cannondale Bicycles

Road

Mountain

City / Hybrid

Felt

Felt Bike frames were first built in 1990 by Jim Felt, and now the Felt Bicycles Company distributes bikes internationally.

More about Felt Bikes

Road

Mountain

City / Hybrid

Cruiser

BMX

Gary Fisher Bicycles

Fisher Bikes has until recently been a mountain bike specialist, but entered the road bike market in 2008.
The brand is owned by Trek.

Gary Fisher is considered to be one of the founding fathers of mountain biking.

Mountain

Road

City / Hybrid

Kids Bicycles

Fuji

Japan's Fuji Bicycle brand was born in 1899. Like many bicycle brands, Fuji suffered through the 1990s, and the parent companies in Japan and America went bankrupt.

Distribution rights for the brand were purchased by Advanced Sports Inc in 1998. ASI continues to market and distribute Fuji Bicycles, Breezer Bikes, Kestrel Bicycles and SE Bikes.

Kids Bicycles

Mountain

Road

City / Hybrid

Giant

Giant started out as a manufacturer of other brands of bike.

After the company began manufacturing Schwinn bicycles, success launched them into a giant international brand.

Giant claims to be the biggest of all the bicycle manufacturers. It builds bikes for other brands as well as manufacturing its own brand of Giant bikes.

More about Giant Bikes

Road

Mountain

City / Hybrid

Cruiser

BMX

Klein

Klein Bikes, named after Gary Klein, were bought out by Trek, but what is the future for the aluminum frame? It's not clear whether Trek will ever resurrect the Klein bicycle brand. The Klein brand is still sold in Japan.

More about Klein Bikes

Road

Mountain

City / Hybrid

Kona

The Kona Bicycle Company was founded in 1988 and produces elite MTBs, touring and racing bikes.

Kona has a wide range of models.

More about Kona Bicycles

Road

Mountain

City / Hybrid

Kids Bicycles

Merida Bikes

Merida Industry Company Ltd was one of a number of Taiwanese bicycle manufacturers that commenced business making cheaper bikes for other bicycle brands in the early 1970s.

The 1990s saw the firm establishment of Merida as a brand name in itself, although they became known for mass produced bikes.
Since 2000, the Merida brand has increasingly been associated with better quality bicycles.

Road

Mountain

Electric

City / Hybrid

Kids Bicycles

Raleigh Bicycles

Raleigh's history as a bicycle manufacturer begain in 1887.

Over the years, many Raleigh brand models have caught the attention of the public including the Raleigh Chopper, and the Grifter.

Electric

Road

Mountain

City / Hybrid

Kids Bicycles

Specialized Bikes

Specialized soared to fame after the launch of the stump jumper mountain bike, the first to be mass produced.

Although Merida owns a significant share in Specialized, the company founder, Mike Sinyard, retains control of the Specialized brand.
Specialized also owns and markets the Globe Bikes brand.

The company retails a large range of bicycle types and models globally.

Road

Mountain

City / Hybrid

Kids Bicycles

Trek Bicycles

Trek Bicycle corporation Owns the Trek, Fisher, Diamant and Villiger bicycle brands, along with Bontrager apparel.

The brand is represented from the high-end to the low-end of the market.

Road

Mountain

City / Hybrid

Kids Bicycles
---
Mass Produced Bicycle Brands
Name
About
Bicycle Styles

Huffy

With a long company history, Huffy bicycles have been bought by millions in chain stores around the world. The bicycles are mass produced and often copy the look and feel of popular high quality bike manufacturers.

More about Huffy Bicycles

BMX

All Terrain Bicycles (ATB)

Cruisers

Small Kids Bicycles

Magna

Dynacraft Inc has a large portfolio of bicycle brands of which Magna Bicycles is one.
The Dynacraft brands are all retailed through department stores and include Anza, Next, Ozone, Rhino, Vertical, Malibu, Avigo and Sonoma.

All Terrain Bicycles (ATB)

Cruisers

Mongoose Bikes

Mongoose bikes retail in both high performance specialty bicycle stores and in low-end mass production that can be purchased from a department store.
The Mongoose brand parent company is Pacific Cycle Inc.

More about Mongoose Bikes

Roadmaster Bicycles

The Roadmaster bicycle brand was established by the Cleveland Welding Company.
In 1950, the brand was sold on to AMF (American Machine and Foundry)

AMG did very well with Roadmaster until the end of the 1970s, and then business declined.
Brunswick Corporation bought AMG's bicycle division in 1997, but then resold it to Pacific Cycle Inc in 1999.
Pacific (Dorel) still sells Roadmaster branded bicycles through Walmart.

All Terrain Bicycles (ATB)

Schwinn

Schwinn Bicycles, like Huffy, is a company with a long history that fell on hard times in the 1980's. It merged with GT in the 1990's, filed for bankruptcy and was eventually acquired by Pacific Cycle.

After 2002, under Pacific Cycle, the Schwinn bicycle brand was moved into the department store market. More recently, mid-level Schwinn bikes are starting to enter bike shops, including the well regarded tailwind Schwinn electric bicycle and others.

All Terrain Bicycles (ATB)

Cruisers

Road

Folding

Electric

Kids Bicycles
---
High-End Only Bicycle Brands
Name
About
Bicycle Styles

Cervelo Bikes

Cervelo was founded in 1995 by Phil White and Gerard Vroomen.

The original aim of the company was to help elite athletes win races and Cervelo has carried that philiosophy through to the present.
Cervelo's branding is largely defined through the values of its pro racing TestTeam ...

Innovate - Sacrifice - Unite - Succeed - Honesty

Colnago

The Colnago bicycles branding has been aligned with professional cycling teams through sponsorship since 1968.

Ernesto Colnago founded the company in 1954.

DeRosa

DeRosa bicycles is another of the prestigious Italian bicycle brands that cyclists drool over.

Like Colnago, Ugo DeRosa has been the charismatic leader who has become synonymous with his own brand.

Litespeed

Litespeed bicycles gained its reputatation by building high-end bike frames from titanium for some of the big names including DeRosa, and Marin.

After specializing in titanium, the company has more recently launched a carbon framed bicycle.

Pinarello Bicycles

Pinarello bicycles are certainly coveted as one of the most expensive brands of bike on the market.

Sponsorship of professional cycling teams has played a critical role in developing brand recognition and marketing Pinarello bikes into the high-end market.
---
Other Specialist Bicycle Brands
Name
About
Bicycle Styles

Brompton Bicycles

The Brompton bike frame has a distinctive curved top tube, which folds together in the middle.
They are designed with commuting in mind when space is at a premium.

Brompton is actually one of the largest bicycle manufacturers operating out of Great Britain

Electra Bicycles

The Electra Bike company is best know for its Townie model. The Townie has what they call flat foot technology which is a crank forward style of bicycle.

Electra bicycles are designed with the comfort of the rider as fundamental.

Comfort / Flat Foot

Cruisers

Dahon Bicycles

Dahon is the world's largest folding bicycle manufacturer.

The brand was born from a desire to create a more broadly functional form of environmentally sustainable transportation, and this philiosophy continues to drive the company forward.

Haro Bikes

BMX freestyle champion, Bob Haro established Haro Bikes in the early 1980s as the BMX boom was at its height.

Bob Haro sold his share in the company in 1988. Some lean years followed, but by the turn of the millenuim, the Haro Bikes brand was once again at the forefront of the BMX market.

Haro has now expanded into the mountain bike market and sells a number of different styles.

Sun Bicycles

Sun Bicycles is the largest of all the recumbent bicycle manufacturers. They also make hand trikes, tandems, and unicycles.

Recumbent Bicycles

Tandem Bicycles

Cruisers

Kids Bicycles

Trikes
______________________
Back to Bicycle and Bikes Homepage
Love to hear your comments in the box below ...