Bicycle Safety Lights Pages:
Why Use Bike Lights?
The Primary Function Of Bicycle Lights
There are two primary and very important functions for your bicycle safety lights.
The obvious function is to illuminate the terrain for you if you are riding at night.
The other and far more CRUCIAL role they play - is as a safety device.
Your lights make you visible and give you a defined presence on the road. They will improve your chances of not being hit by larger vehicles on the road - at night or in inclement weather.
Furthermore - having bicycle safety lights is not only smart it is actually the law.
In most countries the law states that ... in conditions of low-visibility, (ie mist, fog, snow, heavy rainfall) and - obviously at night-time - you MUST use bicycle safety lights.
---
The Legal Requirements
You Must Have:
A red light on the rear of your bike - that is either steady or flashing.
A bright white light on the front of your bicycle - that is either steady or flashing.
Both the headlight and rearlight must be visible from a minimum of 200 meters.
They should also be visible 50 meters from the side.

A rear red reflector - that is visible from 50 meters when a low beam headlight is shone at it.
Pedal reflectors, and Side-rim or Wheel reflectors.
Note: There will be variations in different national legislations - so make sure you check what YOUR local laws are.
---
Important Points To Be Aware Of ...
Side-On Visibility
For a lot of lights the lack of side-on visibility in some lights is a big problem.
Ideally your headlight and rearlights should be visible from the side-on. There are amber-colored LED sidelights on the market that can be added to your bike to overcome this issue.
Light Flash Rate
The flash rate of each light is really important.
A bicycle safety light with a flash rate that is too slow can mean that the cyclist will travel further between each flash giving traffic a less accurate gauge of their position.
A bicycle safety light with a flash rate that is too fast creates a strobing effect and can distort motorists judgement as to the the rider's exact location.
Make sure you test out your bicycle safety light flash-rate before you buy - if you get the chance.
Go Wild ... Attach Additional Safety Lights To Your Bike ... Everywhere!!
Don't be limited by the legal requirements when it comes to safety lights. The more lit up like a Christmas tree you are - the safer you are. This includes wearing bright clothing - preferably reflective.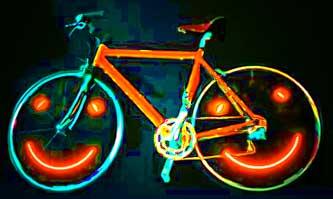 ---
Things To Consider When Buying Bike Lights ...
Mounting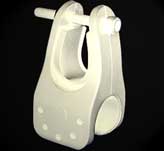 When mounting your light can you position it exactly where you want it so it will illuminate the right areas?
Will a larger lamp sit well on your handlebars or is it too big and awkward?
Is your headlamp placed comfortably and securely so it doesn't skew your helmet?
Is your bike frame too curvy to securely attach a battery pack to?
Will you need to extend a cable to reach batteries that are attached low under the down tube?
---
Power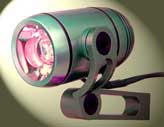 Which type of lights suit you and your bike-riding lifestyle?

Are you looking for a green alternative?

Which power wattage suits your needs?
What can you afford to spend?
How much light are you comfortable using when you cycle?
Have you attached too much light so that you have issues with reflected glare and lost detail?
See Bicycle Safety Light Lamp And Power Formats for more comprehensive Info
---
Range of Beam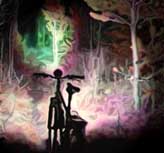 Are your bicycle lights - floodlights, hotspots, sidelights, headlights or blinking rearlights?

What is the range of beams you are choosing?
Are these suitable and do they meet the legal distance requirements?
---
Reliability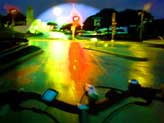 Are your bicycle safety lights reliable under wet, cold, muddy and foggy conditions?
Have you run your bicycle safety lights through their paces - under different and difficult conditions to see how they hold up - BEFORE - an event?

Are they waterproof? shockproof?

Is your mounting bracket reliable and not going to release your light unexpectedly?
Have you researched your - chosen brand's - reputation amongst people who have used their safety lights? ... Talk to friends or check the forums.
---
Run times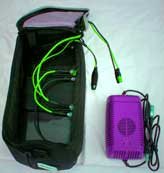 How long do you ride for and how much run time will you need from your battery?
Have you got spare batteries located on the bike so you can use a backup if you need to?
Are you batteries fully charged and ready for maximum run time BEFORE you go out cycling?

Does your battery charger do a good job? Does it recharge quickly?
See Bicycle Safety Light Lamp And Power Formats for more comprehensive Info
---
Other Fantastic Types Of Bike Safety Lights
For INCREASED Visibility Are ...
| | | |
| --- | --- | --- |
| Wristlights and Anklelights | Handlebar Safety / Indicator Lights & Mirror | Wireless Brake and Indicator Lights |
---
| | | |
| --- | --- | --- |
| Handlebar Plugin Lights | Head-Mounted Lamp | LED or Laser Wheelspokes |
---
| | | |
| --- | --- | --- |
| Bicycle Frame Glow-Lights | Flashing Pedal Lights and Reflectors | Down Low Glow Bicycle Lights (DLG) |
---
| | | |
| --- | --- | --- |
| Microlights - Attached to Backpack, Pannier rack etc | Entirely Reflective Bike Frames | Reflective and/or Strobing Flags |
---
| | | |
| --- | --- | --- |
| Handlebar-Mounted Lamp | Reflective Accessories | Laser Bike Warning System |
---
Reflective Gear and Strips

Laser Lights Lanes
(In prototype stage)

Sidelights
---
Popular Manufacturers of Bike Lights
Some Well-Known Bicycle Light Manufacturers Include:
Busch and Miller (dynamos)

Cat Eye

Cygo Lite

DiNotte Lighting

Down Low Glow

Hokeyspokes

KnightLite

Knog

Light&Motion

Lumotec (dynamos)

Lupine Lighting Systems

Marwi

Monkey Lectric

NiteFlux

Night Lighting

NiteRider

Planet Bike

PrincetonTec

Reelight

RoadId

Schmidts (hub dynamos and lights)

Sigma Sport

Smart

Topeak

VistaLite

Zefal
______________________
Back From Bicycle Safety Lights to Gifts
Back to Bicycle and Bikes Homepage
Love to hear your comments in the box below ...