Around the World on a Penny Farthing Bicycle
In 1884, Englishman, Thomas Stevens became the first person to cycle across North America. Mr Stevens cycled (and sometimes walked), his big-old penny farthing from San Francisco to Boston.
He travelled lightly ...
His handle-bar bag only contained fresh socks and an extra shirt. He also packed a mackintosh (that doubled as bedroll AND tent), and a 38 Smith and Wesson.

Outing, a leading sports magazine of the day, had committed themselves to sponsoring Thomas Stevens' penny farthing endeavour.

It was a MIGHTY effort, ladies and gents.
Just imagine riding across 3700 miles (5,954.57 km) of rough wagon trails, railroad ways, canal towpathsand irregular public roads on an unstable, uncomfortable old HIGH-WHEELER!!
Thomas was admired ... and enthusiastic members of local bicycle clubs turned out to cheer him on as he passed through their towns.
It took Stevens 83 and a half days of actual travel and 20 days stoppage for wet weather ...
So, 103 and a half days occupied in reaching Boston.
(Harper's Magazine)
Thomas Stevens completed his adventure on August 4, 1884.
Having tasted success, Stevens then went on to become the FIRST man to cycle around the WORLD on a BICYCLE
---
Here's How It Happened Folks ...
In New York, Stevens landed himself a gig as a Special Correspondent for Outing Magazine, following his transcontinental cycling triumph. (search articles)
In 1885, the publication packed him off to Liverpool to begin his cycling odyssey.
Thomas Stevens' journey was - even by today's standards - ABSOLUTELY PHENOMENAL!!
---
The European Cycle Leg
He set out across England, and made his way over the channel to the continent.
The first leg of his itinerary took him through:
France

Germany

Austria

Hungary

Slavonia

Serbia

Bulgaria

and Turkey
---
In Constantinople he rested for a while, replaced parts on his Penny-Farthing and a got himself a better pistol ... reports of banditry were rife. Once the threat posed by bandits had subsided Thomas mounted his high wheeler again and set off through ...
Anatolia

Armenia

Kurdistan

Iraq

and Iran
Over the bleakness of winter, when it was too severe to cycle, Stevens shared the hospitality of the Iranian Shah in his Teheran palace.
When the weather got better, he set off again, leaving Iran behind.
In March 1886, he quickly ran into trouble when he was refused permission to cycle across Siberia.
And then, when he entered his alternative country - Afghanistan - he was promptly ejected by local law-enforcers.
The next leg of Thomas Stevens' journey entailed a trip by (Russian) steamer across the Caspian to Baku. From here he boarded a train to Batoum and then again went by boat to Constantinople and India.
Remember this is in the 1880's folks. Quite a remarkable feat ...
---
The Asian Cycle Leg
After hitting the Indian subcontinent, Stevens and his penny farthing embarked on journey across the hot and steamy countryside. What a sight that must have been in some of the more rural areas!!
Upon reaching Calcutta, Thomas boarded another steamboat, which took him across to Hong Kong and southern China.
The cycle from southern to eastern China was fraught with difficulty ... especially because Thomas couldn't pronounce let alone SPEAK Chinese ...
He couldn't ask for directions.
(Of course - as we all know gentlemen - he probably wasn't even inclined to WANT to ask directions either!!)
---
Question: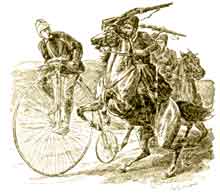 At one point in the journey Thomas Stevens was attacked by rioters and had to be sheltered by a Chinese official because ...
The Chinese were angry over a war with the French

They thought he was a foreign sorcerer who had caused their crops to fail

He was starving and stole some rice from a local merchant

He tried to strike up conversation with an unchaperoned woman
Answer:
The Chinese were angry over a war with the French.
Well, I guess it's hard to tell the difference between a Frenchman and an Englishman ... they all look the same!
---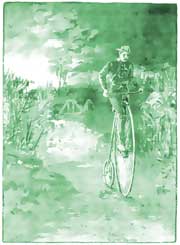 After his tumultuous adventures in China, Thomas Stevens revelled in the relative tranquillity of Japan. He cycled all the way to Yokohama where his global odyssey ended.
The date was December 17, 1886.
---
Thomas Stevens had CYCLED an estimated 13,500 miles (21,726 km).
This was an EXTRAORDINARY achievement, ESPECIALLY given the equipment he traveled on, the lack of gear that he traveled with, AND the primitive conditions of the day... Including TERRIBLE, or - in some areas - NO roads.
AND, please keep in mind, ladies and gentlemen, he was on a penny farthing, NOT a new mountain bike with seat suspension, GPS and accessories!!
REMARKABLE.
Truly Remarkable, wouldn't you say?
After completing his journey around the world on a bicycle, Stevens boarded a boat that returned him to America.
---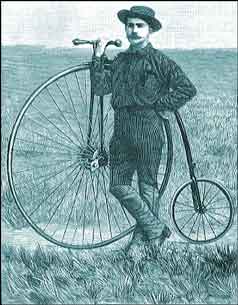 He arrived back San Francisco, in January 1887, TRIUMPHANT and a little exhausted ...

As for his PENNY-FARTHING? Well ...

The renowned bicycle manufacturer - The Pope Company - preserved Stevens' High-Wheeler for fifty (or so) years, until it was donated to a scrap metal drive during World War II.
And that was the end of that ...
______________________
Back to the History of Bicycles Page
Back to Bicycle and Bikes Homepage
Love to hear your comments in the box below ...